Leaky pipes and water main bursts losing gallons of non-revenue water and disrupting life due to urgent repairs in urban areas. Constant health monitoring of Pressure Reducing Valves (PRVS) to reduce stressed clean water mains + Instant alerts when PRVs malfunction thanks to Ayyeka Solution.
Clean Water: PRV Monitoring for Leak Prevention in Erie County
PRV Monitoring for Leak Prevention in Erie County
The Challenge
Erie County Water Authority (ECWA) provides drinking and clean water to almost one million residents in upstate New York. ECWA's distribution network includes more than 600 miles of water main pipes. With approximately three water main breaks daily and over 1,000 breaks annually, ECWA has more than double the average pipe bursts compared to other utilities of similar size. These water main breaks lose 9 billion gallons of treated water annually.
These water main bursts are caused by an aging system of pipes. With 35 water pump stations, 32 water storage tanks, and dozens of pressure reducing valves (PRV), ECWA relies on PRVs to reduce stress on pipes and prevent leaks. When PRVs fail or stop operating optimally, water main pipes become extremely vulnerable to wear and tear and eventually become damaged.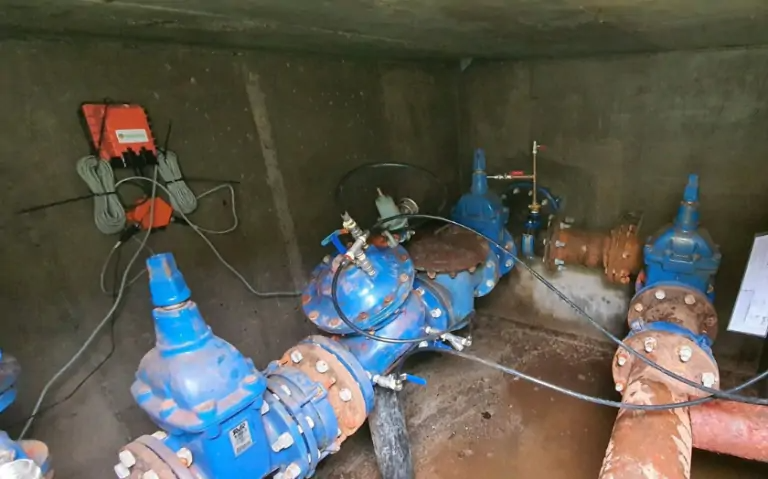 Highmark Stadium, home to the Buffalo Bills, hosts over 70,000 fans during football games or other events. During games, a PRV ensures consistent supply of clean water throughout the stadium for numerous water fountains and sinks. When no events are in progress, the PRV must severely reduce the pressure of the water flow, as there is almost no demand from the stadium. These extreme fluctuations in water pressure wear down the PRV. When the PRV does not function properly, the pipeline it serves develops leaks which then lead to pipe bursts.
The Solution for clean water monitoring
Erie County Water Authority needed to know the status of critical PRV units in real-time. This visibility and situational awareness are the most efficient way to control pressure and manage stress on pipes, reducing non-revenue water.
"Before we deployed the Ayyeka solution, there was no way to know if the PRVs were even working," said Clayton Johnson P.E. at Erie County Water Authority.
The Ayyeka solution was deployed to monitor pressure levels on PRVs throughout the water distribution system. Continuous measurement of pressure levels indicates where PRVs are working optimally and where malfunctions must be addressed.
The Ayyeka Wavelet edge device operates fully autonomously on battery and measures pressure levels every 10 minutes. These measurements are securely transmitted to Ayyeka's Field Assets Intelligence (FAI) software platform every 8 hours, under normal circumstances.
If an abnormal event occurs, the Wavelet detects an irregularity and pings the FAI platform to send an immediate notification to ECWA water professionals. The Wavelet device detects when water pressure levels reach high or low levels and sends an alert in real-time. During these threshold events, the Wavelet measures and transmits pressure measurements every 4 hours – supplying the data details that increase the resolution and awareness of the issue when data is needed most.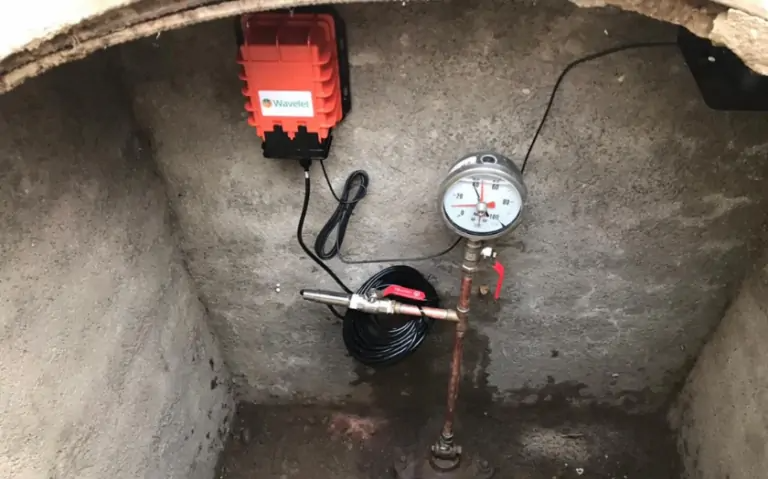 "When pressure drops, we need to act immediately to isolate and locate the leak," said Johnson. "The quicker we find the leak, the less damage is done to pipes. This usually lets us patch the pipe instead of beginning a costly pipe replacement. The Ayyeka solution pinpoints where the pressure problem is, leaving a much smaller area to search for the leak. This also leaves less residents without water while we fix the pipe."
The Ayyeka Solution
Pressure level data transmitted to Ayyeka's FAI software platform is aggregated and analyzed to aid the planning of new hydraulic models. In this case, the FAI also seamlessly integrates with ECWA's SCADA system. From the SCADA control room, water professionals now track pressure, anticipate trends, and achieve the situational awareness to detect real-time events that stress clean water main pipes and cause leaks.
Optimizing pressure in PRVs in the water distribution network reduces unnecessary stress on pipes and leads to dramatic savings in maintenance and energy costs. Real-time monitoring pressure levels enables water engineers to act immediately.
While three different remote-monitoring solutions were tested in the field, ECWA ultimately chose Ayyeka's comprehensive solution. "Ayyeka's Wavelet device and FAI platform were the most user-friendly and cybersecure," said Johnson. "It was the easiest to install, truly plug-and-play, and integrated seamlessly with our SCADA system."