Technology must bring resilience to old and unreliable essential industries in order to ensure the maintenance of quality, critical services.
Digital Solutions Must Save Aging Infrastructure Before It's Too Late
Technology must bring resilience to old and unreliable essential industries in order to ensure the maintenance of quality, critical services.
This article was first published in WaterWorld on March 24th, 2021 by Ariel Stern
No matter the size of the utility. No matter the budget. Digital solutions are the most cost-effective, efficient way to instill resilience in any old and crumbling aging infrastructure.
Take the city of Rutland, for example. Established in the early 19th century and home to 15,000 people, Rutland, Vermont boasts a combined sewer system responsible for transporting both rainwater and treated sewage into the local river. Frequent, heavy rain showers lead to frequent overflows of untreated sewage into the clean river, even though Rutland houses the largest wastewater plant in the state.
Like many other utilities, field crews used yardsticks to measure levels within sewage overflow sites during visits, but this was not enough to provide the situational awareness and continuous monitoring necessary to reduce overflows of untreated sewage. To make matters worse, many of the sewer pipes were over a hundred years old.
Overflows of untreated sewage became so frequent and extreme that all involved stakeholders — from city officials to state regulators and the EPA at the federal level – agreed that a dramatic shift in the way overflows were monitored and managed was necessary. For a small city like Rutland, most of the available solutions came at a prohibitive cost. The only fiscally plausible option was a digital option.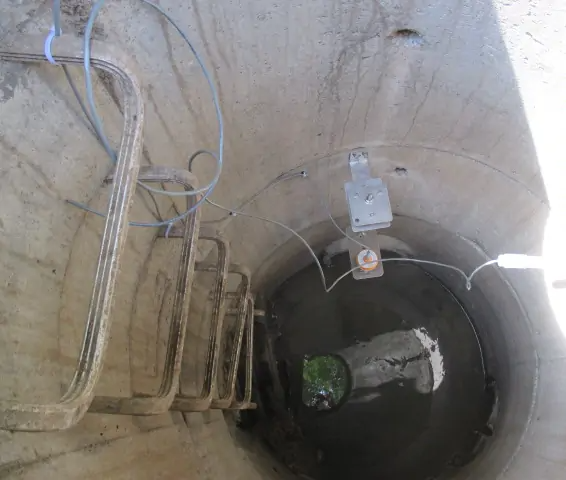 Combining hardware and software for a holistic solution, digital devices were placed at critical junctures within the Rutland sewer system. These devices are responsible for open channel flow monitoring. They monitor flow levels and transmit alerts in real time whenever crucial thresholds are reached.
The small city of Rutland mitigated structural challenges, aging infrastructure, and a limited budget. How? By adopting the most advanced digital tool for industrial settings.
Unfortunately, Rutland is the exception and not the rule.
Aging infrastructure and increased operational stress significantly reduce the quality of critical services. Specifically in the U.S. water industry, over 6 billion gallons of treated drinking water is lost daily due to water main breaks. Sewage pipes are just as old and derelict, and almost 900 billion gallons of untreated sewage pollutes clean water sources annually. Stormwater overwhelms existing infrastructure; urban flooding costs the U.S. more the $9 billion every year. Overflows from stormwater pollute clean water sources in more than 13 million acres of lakes and 600,000 miles of rivers throughout the country.
This aging infrastructure costs Americans in damages, and sometimes with their lives. Last month, devastation in Texas and Mississippi made global headlines. As many Texans and Mississippians begin their second month without running water, Illinois discovered dangerous levels of lead in the drinking water supplied to the majority of the state over the past five years. While mainstream media reporting these affairs may be shocked, water professionals are not surprised.
The American Society of Civil Engineers (ASCE) recently published its 2021 Infrastructure Report Card describing the sad state of critical utilities and emphasizing the need to create resilience. Defined as the ability to prevent hazardous events and the speed at which critical services are restored should such an event occur, the ASCE emphasized the key role digitization plays in improving the resilience of water utilities.
Aging infrastructure faces a constant struggle to supply continuous, critical services in growing cities.
Just last week a water main broke in Colorado, flooding a major intersection. Therefore, requiring a complicated fix due to its location near gas and electricity lines. According to the ASCE, water main breaks occur every two minutes in the United States. Aging, crumbling infrastructure affects Americans in every state, every day.
During extreme weather – which, according to the Voice of America, will only become more frequent – it is almost impossible to maintain critical services for all residents.
There is another way. Resilience for all critical utilities is the necessary answer. Aging infrastructure can achieve resilience through the adoption of digital solutions. Digital solutions proactively prevent disaster from striking when old utilities are unable to guarantee service.
Trepidation over the adoption of new solutions is natural in any setting, and all the more understandable when discussing large, critical industries. Infrastructure is slow to adopt technology in order to mitigate potential risks. However, with a smartphone in almost every pocket, technology is widely accepted and embraced by nearly all Americans. The benefits of digitization far outweigh the risks.
For the first time in the history of the Infrastructure Report Card, the overall grade improved slightly. This was completely due to the initial adoption of innovative, digital tools in the water industry. Unfortunately, these tools are currently used in a limited capacity throughout the country. Broader acceptance and integration of technology would greatly improve the state of the nation's water.
The ancient infrastructure upon which critical services depend was never designed to operate under current conditions. The original engineers could not have anticipated the exponential growth of cities stressing utilities daily. They could not have forecasted the frequent bouts of extreme weather that place additional stress on water and wastewater systems.
Old infrastructure needs new solutions
If we resist the digital transformation of critical water utilities today, tomorrow the costs will be too great to bear. The ASCE estimates an annual cost of $3,300 per American household by 2039 if substantial improvements to critical infrastructure are not rapidly adopted.
It is possible. A small American city used its limited budget to rejuvenate a century-old, broken water system. The city of Rutland, Vermont is a prime example of how digital tools create resilience in a water system established over a century ago.
The question remains, why isn't every county and municipality integrating digital, cybersecure tools to ensure quality service? The most cost-effective way to create resilient infrastructure and maintain consistent supply of essential services is through the adoption of digital solutions. Legislators and stakeholders must advance technology on the industrial level to create resilience.
The original article: https://www.waterworld.com/water-utility-management/smart-water-utility/press-release/14200046/digital-solutions-must-save-aging-infrastructure-before-its-too-late