You can configure a technical stream to monitor when the power source changes from the internal battery to an external source, or vice versa. This stream gives information about the device itself so that you can monitor its health.
An Alert can be sent by email, SMS, or both methods. Unlike all other technical streams, this stream can be configured to send an Alert immediately rather than at the next regularly scheduled transmission.
Prerequisite
The device must have Firmware version 2.3 or newer.
To configure a power source technical stream and its alert:
Follow the instructions to create a technical stream. In step 5, do the following steps:

Select EXTERNAL POWER VOLTAGE channel to associate with the new stream.
Select Voltage(V) as the Engineering Units.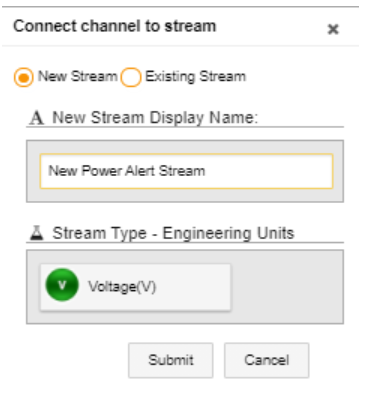 c. Click
Submit
. In the STREAM MANAGEMENT area, the new technical stream is shown as associated with the EXTERNAL POWER VOLTAGE channel.

2. Create a technical alert and configure the Power Source Switch alert.
3. In your Field Asset Intelligence™ (FAI) UI, do the following steps:
In the left pane, click Devices, select the Account, and then click the device whose power source you need to monitor.
In the right pane, scroll down to the Advanced Device Configuration area.
Open the SysHealth dropdown list, and then do the following steps:
Click power source switch alert action, and then select what action will trigger an alert:

PWR_SRC_SWITCH_ACT_NONE - no alert is ever triggered
PWR_SRC_SWITCH_ACT_EXT - the power switches to an external source
PWR_SRC_SWITCH_ACT_INT - the power switches to an internal source
PWR_SRC_SWITCH_ACT_BOTH - the power switches to an external or to an internal source

Click pwr_src_switch_transmit_immediate, and then select when to send the alert:

0 - send the alert at the next normally scheduled transmission
1 - send the alert immediately after a power source switch alert action occurs